The small town of Taormina, on the East coast of Sicily facing the Ionian Sea, is located 204 meters above sea level. It is part of the province of Messina and is approximately 45 km from both the town of Messina and Catania.
Taormina is called the Pearl of the Mediterranean for several reasons: nestled on Mount Tauro, it offers the beauty of Mediterranean architecture while surrounded by endless magnificent views of both sea and mountains. Taormina has a mild climate which lends to lush vegetation year round. Its allure and fascination have been regaled through many illustrious writers, artists and travelers alike. Taormina has, in fact, welcomed many famous personalities including Wilhelm II of Germany, the writers Goethe, D. H. Lawrence, Oscar Wilde, Truman Capote and André Gide, just to name a few. Major fashion designers such as Dior, famous noblewomen such as Florence Trevelyan, the German painter Geleng and photographer Wilhelm von Gloeden, have all called Taormina home at one point, in addition to several visits by English, French and German celebrities of the calibre of Greta Garbo and Elizabeth Taylor.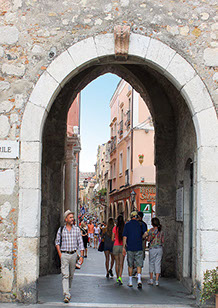 Thanks to its altitude, Taormina offers visitors a breathtaking experience. From its Ancient Theatre you can admire the bay of Giardini Naxos and Mount Etna, the highest active volcano in Europe, while on the other side you can gaze out over the coastline toward Messina and view the proximity of the Calabrian coast.
At the foot of Taormina, the famous bays of Mazzarò and Isola Bella with their crystalline waters.
Corso Umberto is the main, pedestrian street at the heart of the town. Besides the Ancient Theatre, many are the monuments of Taormina such as the main Cathedral, the "Palazzo Duchi di Santo Stefano", "Palazzo Corvaja", the small Odeon theatre, the "Naumachie" and the lovely Public Gardens named "Parco Duchi di Cesarò".